INSIDER PRICING: SAVE $147

This is the best deal we've ever offered. Go ahead, check out the rest of our site to compare.
Order before the timer expires and receive your Gravid in an exclusive premium gift box!

What Makes Gravid Unique?
ZipperTech Attachment System

Goes around the full perimeter of your blanket to keep your Gravid 3.0 Weighted Blanket perfectly attached to its cover. No sagging, no bunching.
Eco-Friendly, Sustainable Fabrics
Gravid 3.0 and the EcoBreeze Cooling Cover are made of Tencel™ Lyocell which is naturally-derived, sustainable and biodegradable. You're taking care of yourself and the environment!
Measuring 60x80", Queen Gravid 3.0 is 28% larger than other weighted blankets so you can snuggle up without worrying about losing coverage.

Mini-Grid Weight Distribution

Smaller stitched compartments means the weight in Gravid 3.0 remains up to 4x more evenly distributed than competitors!

The Gravid 3.0 Weighted Blanket and its covers are machine-washable. The Covers are also dryer-safe.

Gravid 3.0 features a double-stitched grid design along with 7-layer construction to ensure the weight stays evenly distributed for a lifetime. No leaking beads, no shifting weight...ever.

Still up? Get your Gravid
Gravid Cares


We have donated our weighted blankets to many charitable foundations and events including: St. Joseph's Health Centre, George Hull Centre, United Way and The Canadian Foundation for Pharmacy.

Would you like to request a donation for your next charity event?

Chat with a member of our team using the 24/7 live-chat feature at the bottom of your screen.

100% Money-Back Guarantee

Try it for 101 nights and if you're not satisfied for any reason, just send it back for a hassle-free refund.


Over 25,000 Happy Sleepers

Our customers have been raving about their Gravid Weighted Blankets since 2017.


FREE Shipping to the contiguous US

With our trusted Partners at Fedex and UPS.
Night Owl Special consists of 4 components:
The heart of your Gravid. This is the inner layer that is weighted in proportion to your body weight.
The Gravid Inner Weighted Core has a specialized double-stitched grid design to keep its weight evenly distributed. Non-toxic glass beads are sewn into small pockets throughout the blanket for a calming experience.
Studies have shown weighted blankets to be effective in elevating mood, reducing anxiety and improving sleep.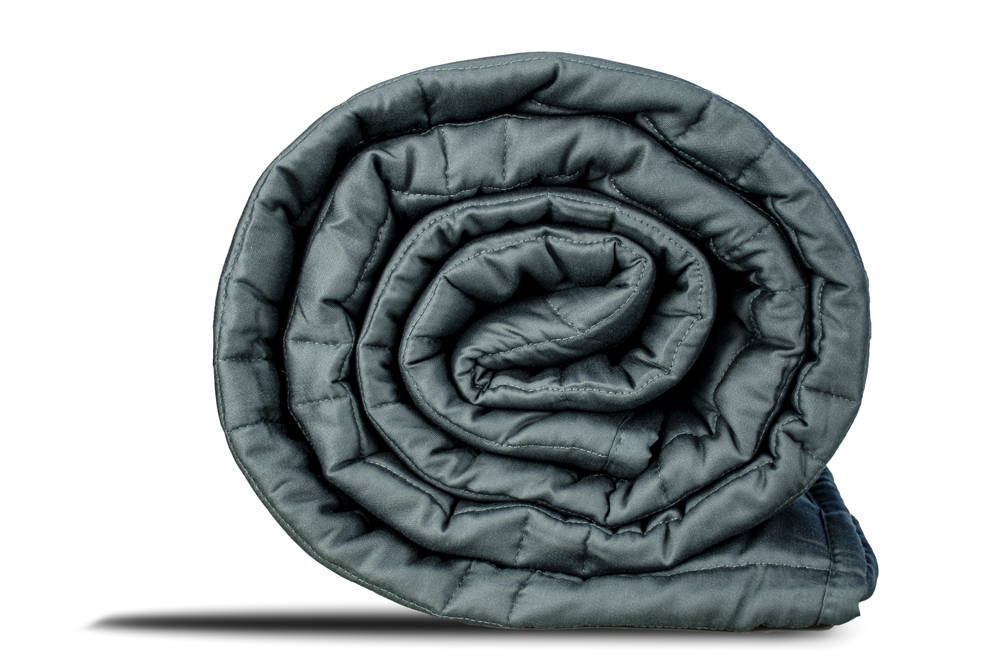 SuperSoft MicroPlush Cover

The most cozy weighted blanket cover on the market. This is the outer cover that provides a warm, hug-like embrace. The high-grade 240gsm MicroPlush provides a sensory experience that encourages you to fall into a blissful sleep.

The SuperSoft MicroPlush cover features ZipperTech so your Gravid blanket stays well-distributed inside. Long outer zippers make it simple to remove the cover for easy cleaning.
This cover is removable, machine-washable and dryer-safe.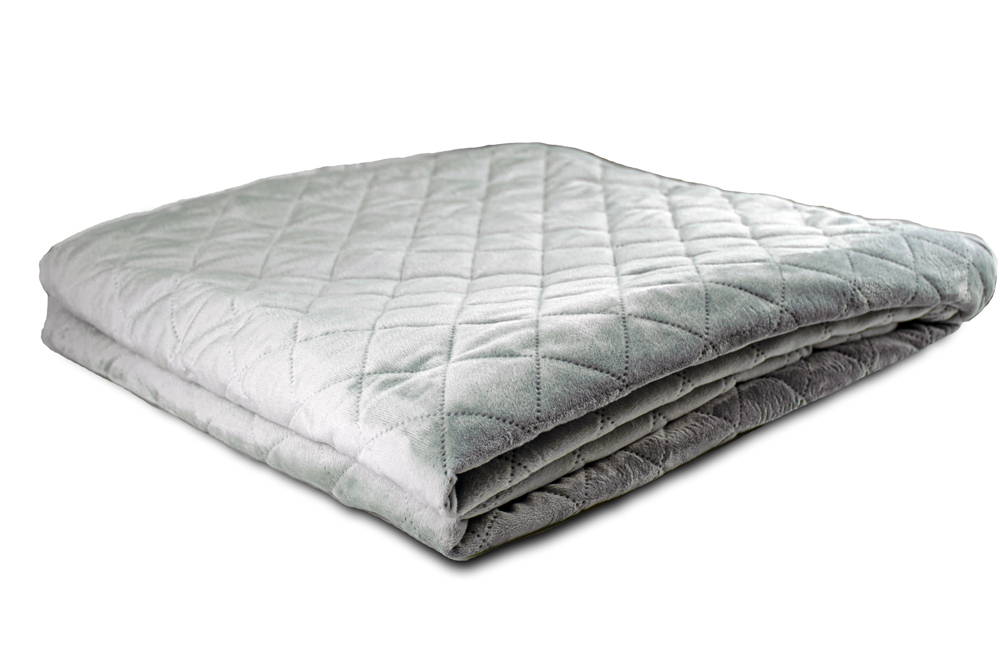 Our breathable and cooling cover. Made of eco-friendly, sustainable 100% Tencel™ Lyocell, this is the outer cover that provides ideal temperature control, perfect for hot sleepers.
The Gravid EcoBreeze Cooling Cover is specially crafted to drape over your body like liquid, wick moisture away and allow you to feel all the weight without the warmth.
This cover is also removable, machine-washable and dryer-safe.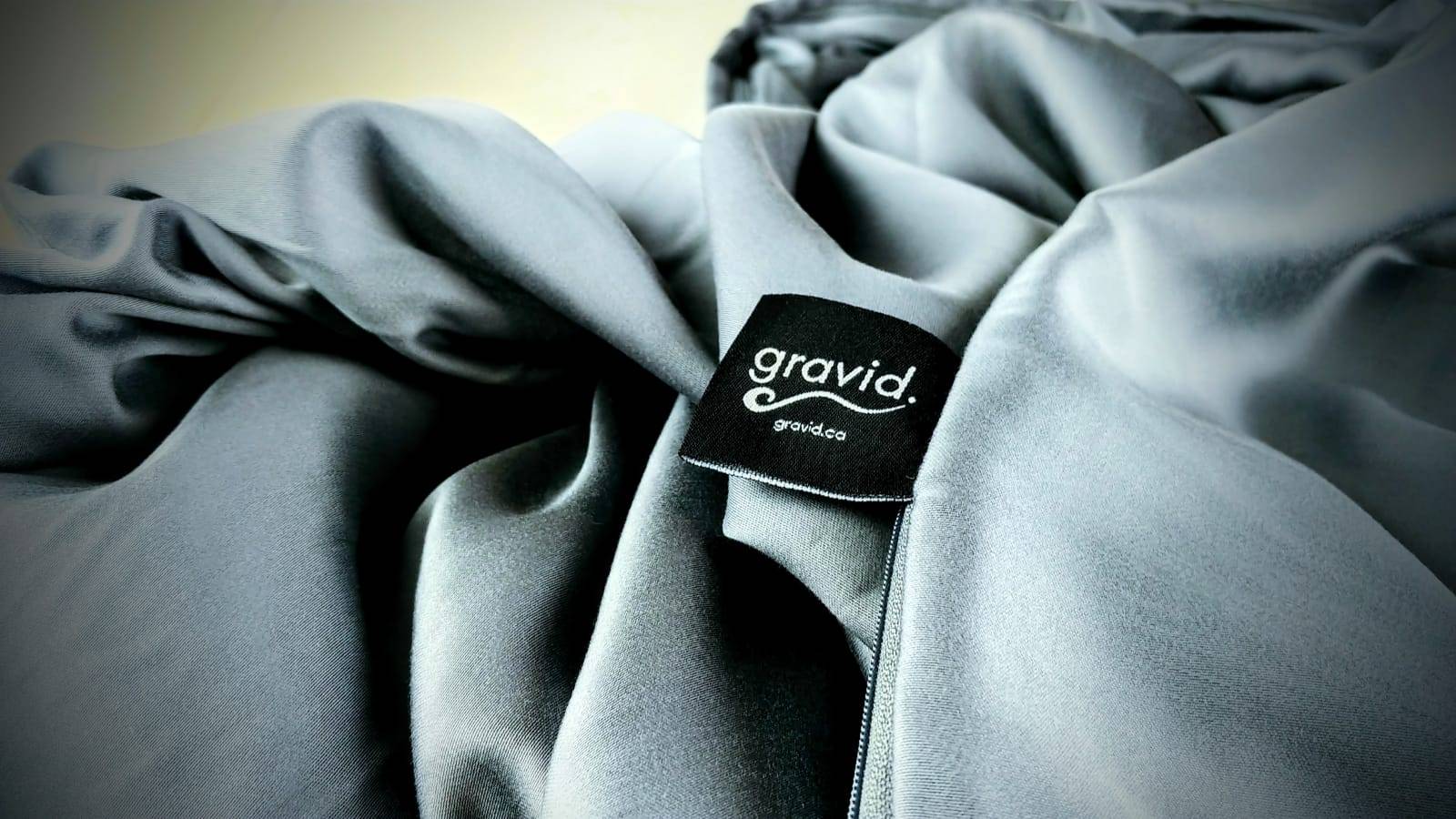 Visage Weighted Sleep Mask

with ClimaGel for cold/warm pressure
Designed to eliminate light and stimulate pressure points around the eyes to increase melatonin production for the best sleep of your life.

The Gravid Visage features 250g of evenly distributed weight and utilizes the same scientific principles as our weighted blankets.
Featuring our popular SuperSoft Plush and an adjustable velcro backing, the Visage Sleep Mask is crafted for supreme comfort.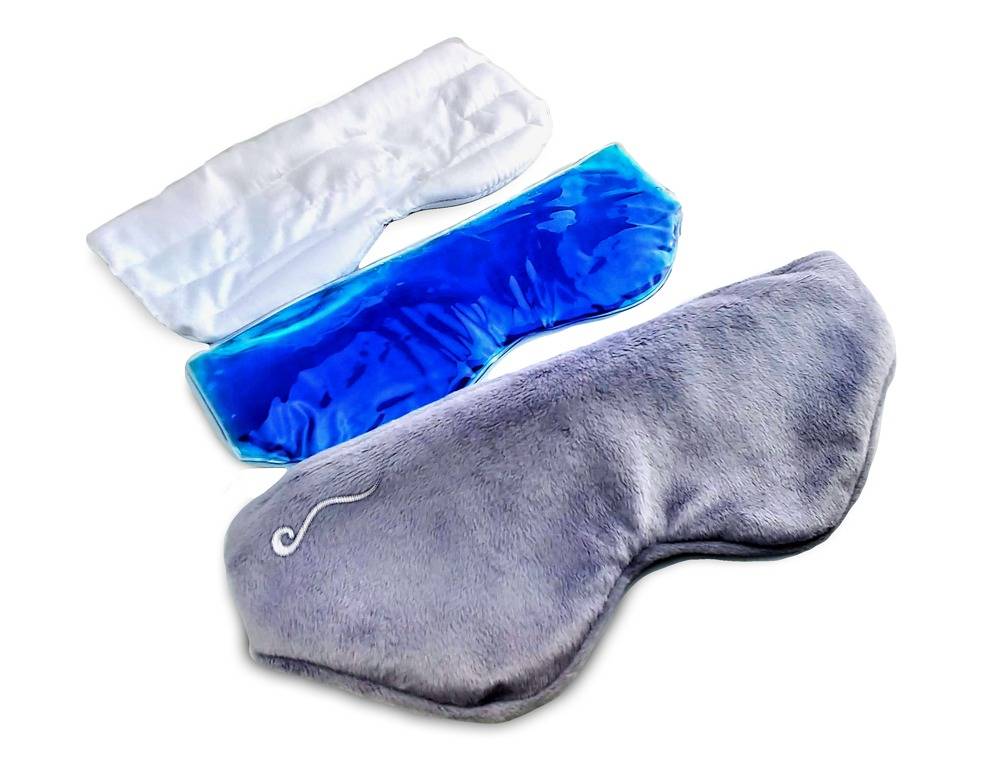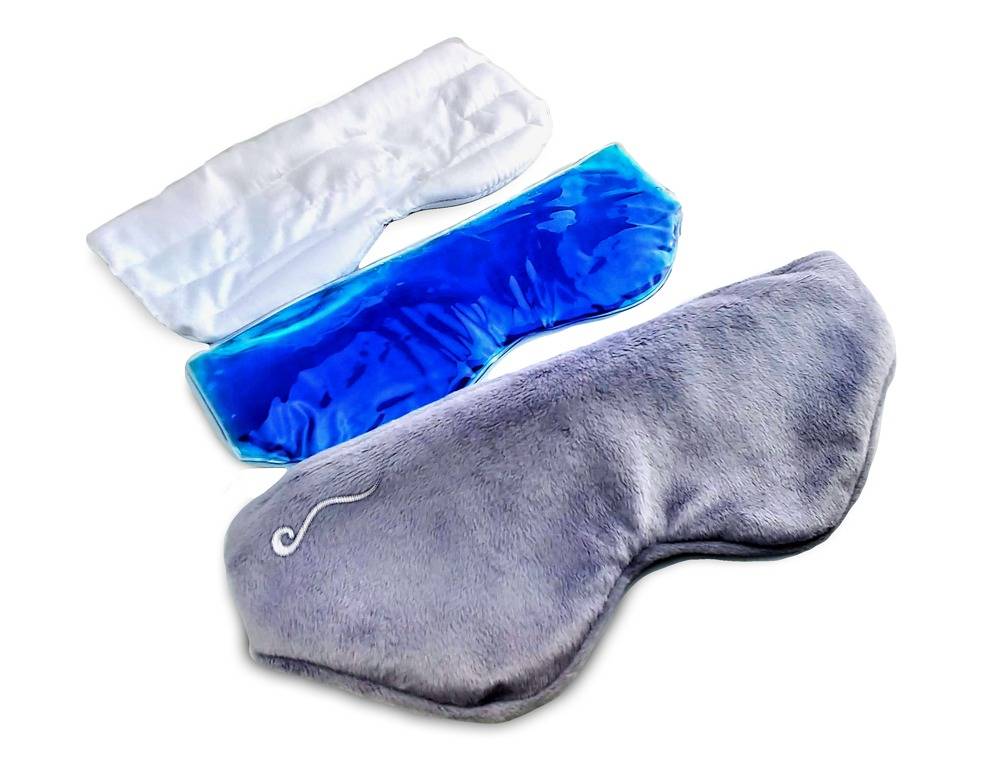 Over 25,000 people are sleeping better with Gravid
On a budget? Consider our Individual Weighted Blanket!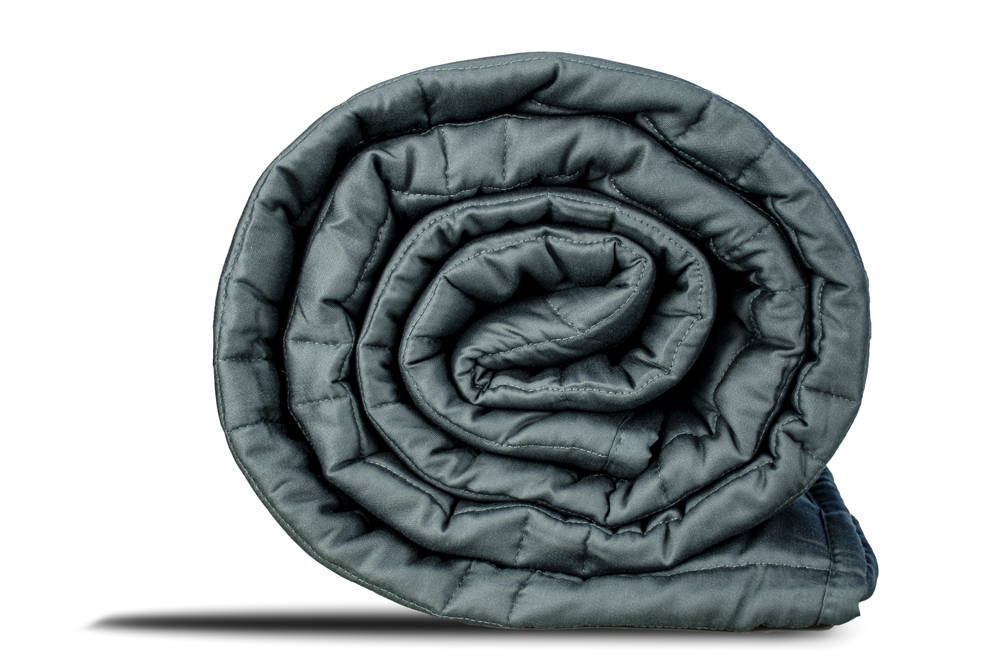 The Road to 1 Million Healthy Sleepers:
Join thousands of Canadians who are benefiting from Gravid Weighted Blankets today.
Your Weighted Blanket Questions, Answered
What weighted blanket is right for me?
What size is the weighted blanket?
Queen size: 60" x 80" (152cm x 203cm)
Twin Size: 48" x 78 " (122cm x 198cm)
How do I wash my weighted blanket?
The Gravid weighted blanket (and outer removable covers) can be washed in your machine on a cool, gentle cycle with a small amount of liquid detergent.

Tumble dry on a cool setting until slightly damp, and hang to complete the drying process.
When can I expect my weighted blanket?
Once your order is placed, we ship it out from our warehouse within 1 business day. We ship by Canada Post and UPS.
You will receive an email with your tracking number once processed, usually within 24 hours of placing your order.
Transit time to most states is 3-4 business days.
What makes Gravid different from other weighted blanket companies?
Simple answer: premium materials and innovative design.

Gravid weighted blankets are made using 100% Tencel Lyocell; an eco-friendly, renewable, high-tenacity fibre which gives it high strength properties. It is softer than cotton, has a luxurious sheen and is extremely breathable. It is also naturally anti-bacterial and gentle on the skin.

For weight, Gravid weighted blankets use non-toxic, micro-rounded glass beads that have a diameter of 1mm. This is the optimal size of bead to keep the weight evenly distributed across the surface of your body. Glass beads are the best material for people with any type of auditory, sensory or physical sensitivities. They are quiet, making them ideal in a bedroom setting.
We invented ZipperTech: A zipper mechanism that goes around the full perimeter of your blanket to keep your Gravid weighted blanket perfectly attached to its cover. No sagging, no bunching.
Gravid weighted blankets also feature a double-stitched grid design along with 7-layer construction to ensure the weight stays evenly distributed for a lifetime. No leaking beads, no shifting weight...ever.

What is the return policy?
Once you receive your blanket, you have 101 nights to try it out.
The Gravid weighted blanket uses deep touch pressure stimulation to help you relax and drift to sleep. However, it can take some time for your body to completely adjust to your new weighted blanket.
We recommend that you ease into it by using it a few hours at a time (while watching TV, reading a book, etc...) before using it for a full nights rest.
We highly recommend you sleep with it for at least a week to give your body a chance to adjust. If for any reason you are not satisfied with the item, ship it back to us and we'll refund you 100% of your purchase price.

Do you have a store I can visit?
Gravid Weighted Blankets are available at over 50 retail locations across Canada, including Wellwise (by Shoppers Drugmart) and Pharmasave. Use our store finder to find a location near you.

Gravid ZipperTech Demonstration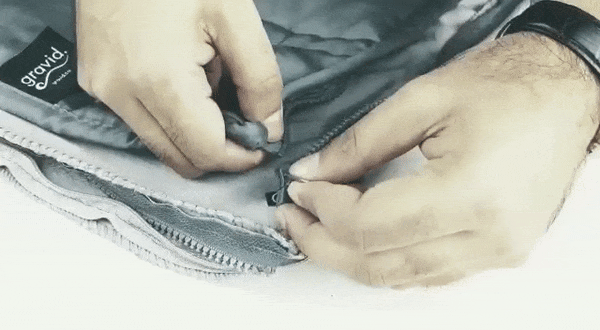 Gravid 3.0 Weighted Blanket being attached to a MicroPlush Cover using ZipperTech Attachment System.